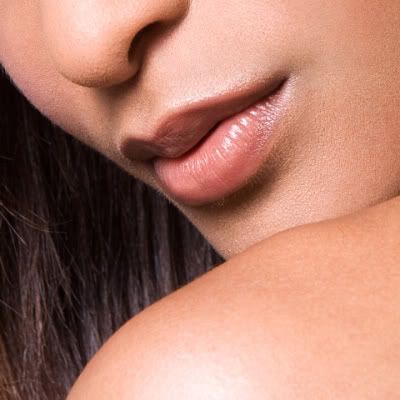 (LEFT) Photographer: Charles Jackson; Makeup: India Cherese; Model: Lauren Mckiddy, (RIGHT) Photographer: Olesja Mueller; Makeup: India Cherese; Model: Mia Fields
Finding Your Perfect Shade
To find the best basic lip color, remove all makeup. The perfect shade will generally be close in tone to your natural lip color. 
The one that looks good on the bare canvas is the right neutral, everyday, mistake-proof color. 
It should not look ashy, orange, or pink but more of an enhanced version of your natural lips. 
Some women may need more color than others, and the shade that may be best may sometimes tend to be bright or dark.
When your skin tone is enhanced, your eyes look brighter, and gives your face a lift you have targeted your perfect match. 
Once you've found the right neutral or every shade of lip color, you've got the basis for selecting the "more fun" and dramatic colors. 
Most lip colors with the same undertone as your natural shade will look pretty.
What lipstick shade best fits your natural lip color?
Pales Lips

: beige, sandy pink, light coral, pale pink, bright red
Medium Lips

: brown, rose, pink, orange, warm red
Dark Lips

: brown, deep red, plum, deep chocolate, deep raisin/berries
Two-Toned Lips

: chocolate, blackberry, deep plum, deep raisin, deep red
Tips for Long-Lasting Color
_______________________________________________________________________________
Some lip color products are long-lasting, but
a lot of time those formulas tend to be far too dry. 
Here are some techniques the I use to provide extended wear to regular lipstick formulas.
Use a lip pencil that matches the natural color of the lip line and completely fill in the lips.
This acts as a base and helps hold lip color in place. Layer lipstick on top.
Use pencil on top of lipstick to create a wax-like barrier.
Blotting lipstick with your fingers presses color into the lips creating a stain that will last.
A bit of powder or blush patted on top of lipstick will keep it on longer.
________________________________________________________________________________